Top Neighborhoods to Trick or Treat in OKC
Are you looking for a great trick-or-treat spot? Does your Neighborhood seem to lack a good selection of candy? In the Urban Core of OKC it has become a tradition to attend Halloween night in a Neighborhood that may not be your own. Don't worry this year, we have put together a list of Neighborhoods that do Halloween right!
This year the official night is Thursday the 31st! Remember street safety rules any time you will be crossing streets– especially on Halloween night!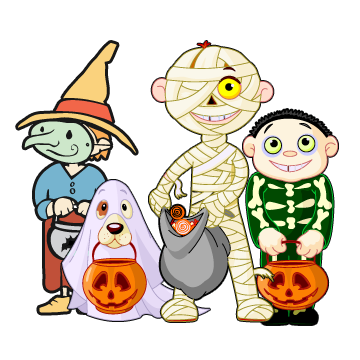 11. Carey Place
Great for anyone wanting to walk only one street this Halloween. Carey place is offers a short jaunt with the most return for your time.
10. Cleveland
Any Neighborhood with a school at its entrance is destined to have homes with kid friendly candy. Cleveland is a smaller Neighborhood with simple streets to follow.
9. Crestwood
With long streets and a main boulevard, Crestwood is great for those parents who only have time for one street and need to keep a close eye on their kids. Their Haunt the Median starts at 6:30 p.m. Monday night on 19th street.
8. Shepherd
A Neighborhood filled with families who love the holiday spirit, Shepherd gives you the opportunity to grab candy and then maybe some dinner nearby.
7. Miller
With two long and wide boulevards that actually intersect, Miller is perfect for large groups. It has plenty of street parking and space to take breaks.
6. Linwood Place
A festive Neighborhood with one of the best boulevards in the city. 19th Street is well known for its easy pickings for great candy. Also a great place for larger groups.
5. Putnam Heights
A Neighborhood that, in some sections, has large estates. Putnam Heights is quiet and traffic is at a minimum. This is great for younger trick-or-treaters.
4. Heritage Hills
A Neighborhood that has several areas of low and high traffic. Depending on your group size and the age of your trick-or-treaters, you can pick your spot. It is said that some homes leave candy even if no one is home.
3. Crown Heights/Edgemere Park
Long sloping streets and plenty of festive families, Crown Heights/Edgemere Park boasts some of the best trick or treating in the City. If you start early, you might not be able to carry all the candy.
2. Mesta Park
A short walk down any Mesta Park street and you will realize this neighborhood loves Halloween. It also shows when you finish the evening with an amazing assortment of candy!
1. Nichols Hills
Likely the largest and most giving Neighborhood in OKC! It will feel more like Christmas than Halloween when you realize what is in your treat bag.
Follow Us on your favorite Social Media!








Selling Your Home?
Get your home's value - our custom reports include accurate and up to date information.
Get Home Value