Verbode's Top 10 Tuesday: Mesta Park
Verbode's Top 10 Tuesday features Mesta Park. Mesta Park, also known as the University Addition, is a distinct neighborhood situated in the heart of Oklahoma City. Though there are so many things we love about this historic area adjacent to Heritage Hills, we're sharing ten of our favorites!
1. Landscaped medians- Along 18th Street and Shartel are medians home to gorgeous seasonal plantings. At one time, this route served as Oklahoma City's old trolley line. The trolley was designed to make Mesta Park, once considered "the suburbs", accessible and close-by to the growing downtown area.
2. Diverse historic home styles- Bungalow, Craftsman, Victorian, Four-square, Neo-classical and Prairie home designs can be seen on a walk or drive through Mesta Park. If you are an architecture fan or even an Oklahoma history buff, you'll find the area rich in information and restored historic homes.
3. Namesake- "Perle Skirvin Mesta" was a renowned hostess within the neighborhood. Her father was William B. Skirvin (yes, of the Skirvin hotel) but her own accomplishments and reputation are infamous in their own right. Besides throwing lavish parties for everyone in the political world including presidents, and later many others, she was dedicated to helping the underprivileged and a marked businesswoman. Check out this excerpt from a story by the Oklahoman: "When her husband died from a heart attack in April 1925…[she] inherited an overwhelming majority of company stock and stunned the all-male board of directors by seating herself as her husband's replacement on the board." Perle Mesta is an excellent and incredibly interesting namesake. For more information see: http://newsok.com/article/2149382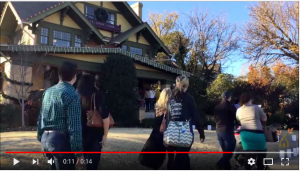 4. Holiday Home Tour- Around Christmastime the air in OKC changes and many look forward to local events that define the season. The Mesta Park Holiday Home Tour is an excellent way to get an inside look at the different homes and see the holiday decorations. Carolers roam the neighborhood, food trucks park, and often a van service is provided for transportation. Click on the photo to see the video!
5. Trees- These beautiful trees were most likely first planted when the area was platted and developed. That makes these trees over a hundred years old. They provide excellent shade and break that enduring Oklahoma wind.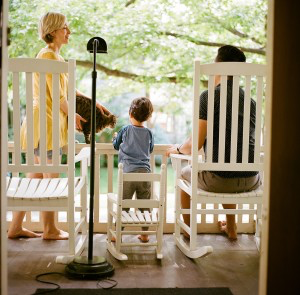 Taken by: Chad Bennett
6. The People- Mesta Park is a friendly neighborhood with diversity in abundance. This has always been the case and can be seen walking to and from different areas of the neighborhood. As one article stated, "[homes] 1,200 to 5,000 square feet- is one of the main reasons why the neighborhood attracts such a variety of residents." On top of that, the neighborhood's hosting of events and decorating in the seasons makes it a community hub.
7. Halloween- Mesta Park is one of the hottest neighborhoods to trick-or-treat and view elaborate decorations. Giant blow up cat? Check. Massive spiderweb draping not only the yard but even the columns of the house and adjacent tree? Check. Members of the neighborhood stock up on candy, but it's easy to run out by 8pm because of the sheer volume of cute kids and their parents who line the streets in various costumes.
8. Perle Mesta Park- This city park is host to a plethora of activities. Mesta Festa takes place on its grounds, kids often play here, and it serves as a place of community. There are swings and a playground for kids and young at heart, a wonderful pavilion to shelter from the harsh weather and a fantastic sand volleyball court. The grounds are overall well-maintained.
9. Walkable to Midtown and Uptown- Driving through the neighborhood from 23rd to 13th on Dewey or other North-South streets, you'll catch numerous families or groups walking to get dinner or visit neighbors. A walk away from fantastic restaurants like Cafe Antigua, grocery shopping at Homeland, home furnishings at Interior Gilt or the Commonplace Bookstore in Midtown. Sidewalks are well cared for and easy to walk, run, or bike.
10. Mesta Festa- This annual party has been taking place for the last 22 years. Beer garden, food trucks, live music, and a preceding 5k are just some of the fun. Verbode is excited to be a sponsor this year! Stop by our booth and say hello! We can acquaint you with Mesta Park history, introduce you to neighbors and provide friendly real estate information.
Selling Your Home?
Get your home's value - our custom reports include accurate and up to date information.
Get Home Value