Review: Hatch, Early Mood Food
If the idea was to wow our eyes and blow our minds with the interior, they succeeded. Hatch paid very special attention to your first impressions in every way. There is height and depth that makes you feel like there is plenty of room for any size group. The interior mixes exposed brick and concrete of the old building with warm colors in a geometric delight. When you enter you are immediately greeted with smiles and asked where you would like to be seated. This might change considering this was their official first day, but it made an impression. I chose the bar so I could see straight into the kitchen in order to watch the magic happen.
After I was seated, Jenna who was my server at the Bar, handed me silverware, a menu and a glass for my water. She informed me that I can ask help from anyone in the restaurant if needed, which is a nice touch. I ordered an americano coffee served in a large white cup. Next was deciding what I wanted to start with. I didn't have much time, so I asked Jenna what she thought would be a great introduction to Hatch cuisine. She suggested the Incredible Eggwich that comes with a side of hash brown tumblers. If your meal does not come with these tumblers, I suggest buying them as a side. They are amazing and addictive.
Before I start telling you all about my meal and it's amazing taste, let me tell you about the other people who set next to me. Two professional foodies entered through the front door. Hungry and ready for a taste experience, they both agreed to eat something new to their palettes. They started with the Chicken Fried Eggs. Three soft boiled eggs, battered and flash fried. Served with cholula ranch and smoked cheddar hollandaise. Looking like they just won the food lottery, they carved open the eggs to find the perfectly cooked yolks that started to slowly spill from their whites. It was obvious they had found their new favorite dish and exclaimed they would order it again when they return.
After savoring every last bite, they were excited to move on to their next course. Let me remind everyone of how professional these foodies were. Their next plate was the Steak and Eggs Benedict. This isn't for the small of stomach. You need lots of room in there in order to finish this plate. Now back to my meal.
After wiping my mouth from all the drool, I was greeted with a plate of food. At first it didn't look so fantastic. A normal plate of food you could find at any diner. This was the only part of my experience that was underwhelming. That being said, I took one bite and new it was the right meal to start with. The eggs were fluffy with plenty of taste coming from the chipotle hollandaise and chives and pepper jelly. The bread was soft with a hint of heat that sparked a party amongst my taste buds. I was no longer in a hurry. I wanted to take time to enjoy every bite of those tumblers and the sandwich.
It isn't always clear at newer restaurants whether they want to wow you with sights and tastes or if they want to fill your appetite. At Hatch, it is clear they want to do both. If you order the right meals, you will see a work of art and taste it too. Before you go to Hatch, eat light the night before. I promise you won't regret it.
Hatch – Early Mood Food. Scratch, full-service restaurant & bar serving Breakfast & Lunch, 7 days a week in Midtown Renaissance's Buick Building! A Provision Concept property.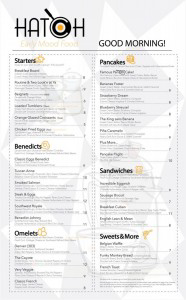 Selling Your Home?
Get your home's value - our custom reports include accurate and up to date information.
Get Home Value