Market Snapshot - Week One of April 2020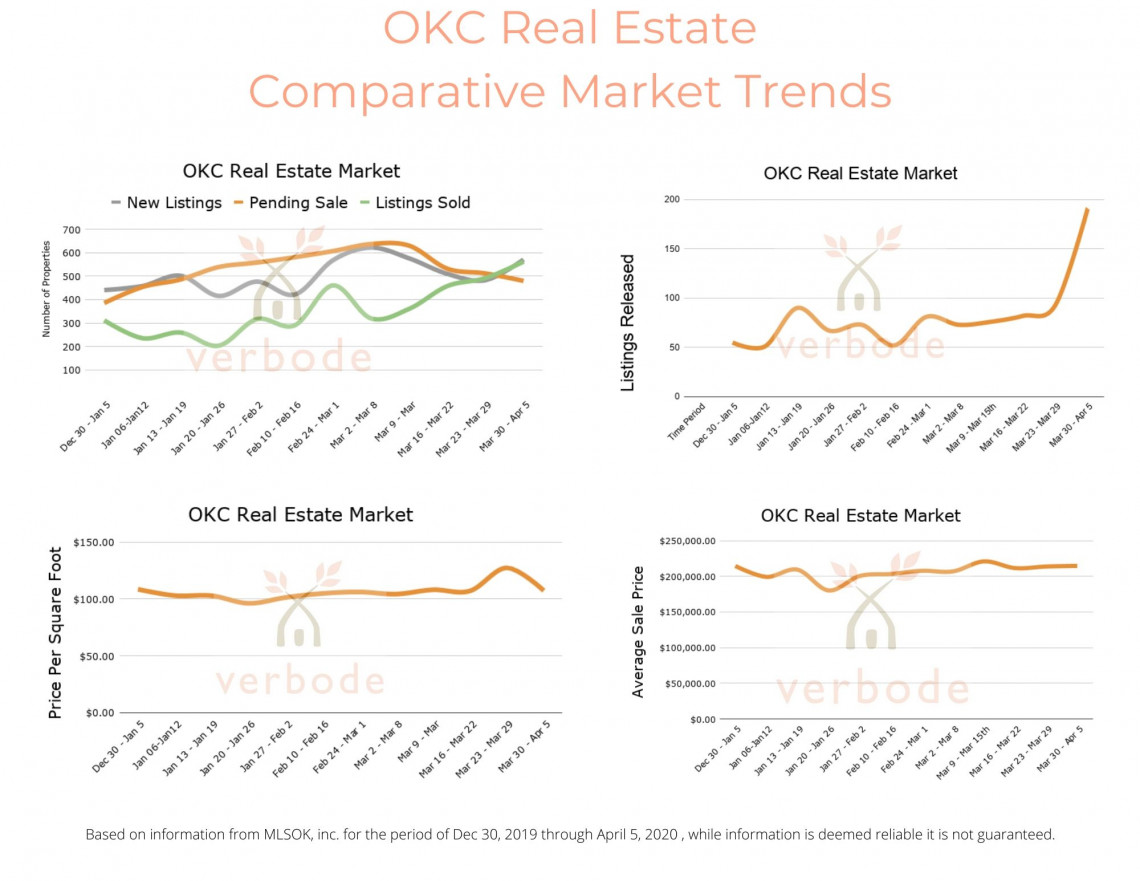 Market Snapshot in Review
It's now April and Spring is definitely in the air. April is also the time of year that our friends and neighbors across Oklahoma City start thinking about making a change at home. Some of you are likely considering a remodel, addition, or some minor DIY fix ups to your existing homes. Others of you are realizing that your situation has changed and you need a different home. Most of you are working from home now and might need a better home office. Some of you are homeschooling your children for the first time and might need different space to accommodate their needs as well. Whatever the case may be, we are here to help you during the COVID-19 pandemic but the process to do so is going to look a little different than before.
First, we recommend that the majority of the real estate transaction be accomplished from the comfort of your home computer or mobile phone in a safe, digital environment. Second, we are taking every precaution to remain safe and to do our part to not spread the virus. For tasks that require us to meet in person, we are employing social distancing standards and vigilint on sanitizing and hand washing. We welcome you to join our conversation on instagram and facebook as well as our weekly zoom calls where you can ask questions and get real time answers. In the meantime, we will continue to follow the market accurately and report our findings. If you need any kind of specific report for your home or buying area, we can easily prepare and send that over. Just drop us a message anywhere you'd like to connect.
Here's the market update for March 30-April 5:
Home prices for the week remained steady across the Metro. We are seeing a slower pace than the same time last year, with new listings down 25% over the same time in 2019. However, the market is still moving. We are seeing consistent activity in new listings, pending sales and closed homes last week which is encouraging! We did see a spike in homes being released from the market last week likely due to the Shelter in Place order. Locally, REALTORS are putting protective measures in place and applying best practices for all personal contact in homes, which will bring peace of mind to the community should you need to make a change.
While the COVID-19 pandemic has created a global upheaval, one thing we know remains true. Oklahoma City is a fantastic place to live. We have one of the most affordable markets in the United States and a wonderful climate for Small Business. As we all find our new "normal', we strongly believe that the real estate market in Oklahoma City will continue to thrive and while it might not be "business as usual", we are pioneering new technologies in virtual showings, virtual closings and an improved overall digital experience to assist buyers and sellers moving forward.
If you have specific housing needs that are emerging, please reach out to us. We want to hear from our clients, friends and community on how you're feeling. We can schedule a phone or video conference to discuss the market in depth and are happy to send you specific market conditions on your home and neighborhood. We are here to serve you just as we have always been since 2011.