Market Snapshot - Week Two of December 2019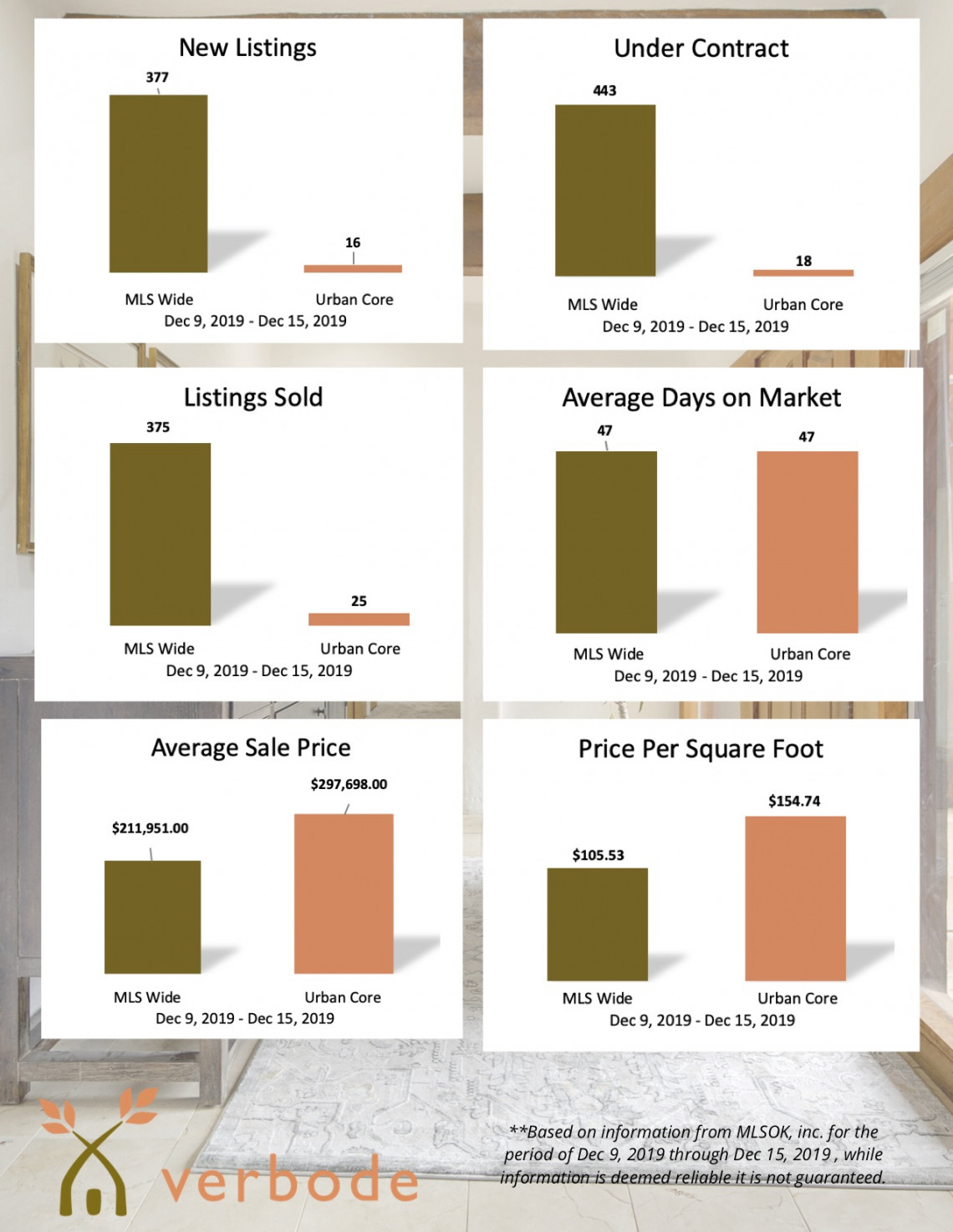 Market Snapshot in Review
Welcome to the first weekly report of the Oklahoma City's Urban Core Market Stats. It is our goal to provide the real estate market trends for you as a part of smart planning to make your move.
What is the Urban Core?
The Urban Core is the geographical outline South of NW 63rd, Between Hefner Parkway(I44) and Broadway Extension (I235) and North of the Oklahoma River. It also includes the areas southwest of NE 23rd St & Kelley around the State Capital and OU Health Sciences Complex.
The idea of the Urban Core, also known as The Bubble, are the north central areas that have experienced a surge in main street redevelopment, such as Uptown 23rd, Midtown, Plaza District, Paseo, etc. The effect of this commercial uprise has flooded the residential real estate market with new downtown development, historical district rehabilitations, and giving new life to the older areas of the city. Our data, pulled from MLSOK, Inc.,shows you the difference in property prices, the demand for homes in this area, and what that means for you when buying or selling a home.
While Verbode specializes in the Urban Core, we can provide data for any area in Oklahoma City or the surrounding cities. Contact any of our experts for information specific to your area.
What happened Last Week?
Compared to the whole of the MLS, the Urban Core lists far fewer houses. This creates a high demand among buyers and homes generally go under contract quicker than homes in other areas. This drives up the Average Sale Price and Price Per Square Foot. Buyers are finding great value in being surrounded by local retail, being able to walk to dinner, and feeling connected to their community.
Typically, in December, we see less houses going on the market as people focus on the holidays. However, frantic buyers who are scrambling before the end of the year are making their serious moves. Last week my social media was riddled with lenders promoting that they can process your loan and close before the end of the year. This chart shows both the Urban Core and the MLS putting more homes under contract than new listings went on the market.
Verbode experts are here to help you understand the trends in your area so that you can make the right move for your needs. We have teamed with other experts in real estate to ensure you have all the resources you need.