Top 10 Cocktails to Make This Fall
10. Toasted Pecan Old Fashioned
Ingredients:
½ cup pecans, toasted
1 ½ cups of your favorite whiskey
1 sugar cube (or ½ teaspoon granulated sugar)
4 dashes Angostura bitters
2 oz. Toasted Pecan Whiskey (recipe below)
Ice Cube
Directions For Toasted Pecan Whiskey:
Preheat the oven to 400°F.
Place the pecans on a baking sheet. Transfer to the preheated oven.
Toast the pecans for 10-15 minutes or until browned and fragrant. (Keep an eye on them, as you could potentially burn them if not paying attention!)
Remove from the oven, and let cool to room temperature.
Transfer the cooled pecans to a mason jar, and pour the whiskey on top of them.
Let the whiskey infuse for 3-4 days. (Don't go any longer than 4 days, as the pecans could dry the whiskey out.)
Directions For Toasted Pecan Old Fashioned:
In an Old Fashioned or your favorite whiskey glass, measure the sugar cube/loose sugar and dash in the Angostura bitters.
Using a muddler, break down the sugar cube and combine it with the bitters, coating the sides of the glass as the sugar and bitters mix.
Place whiskey stones or a large ice cube, then pour the Toasted Pecan Whiskey over the cubes, swirling it to mix with the bitters and sugar mixture.
Enjoy immediately!
via thespeckledpalate.com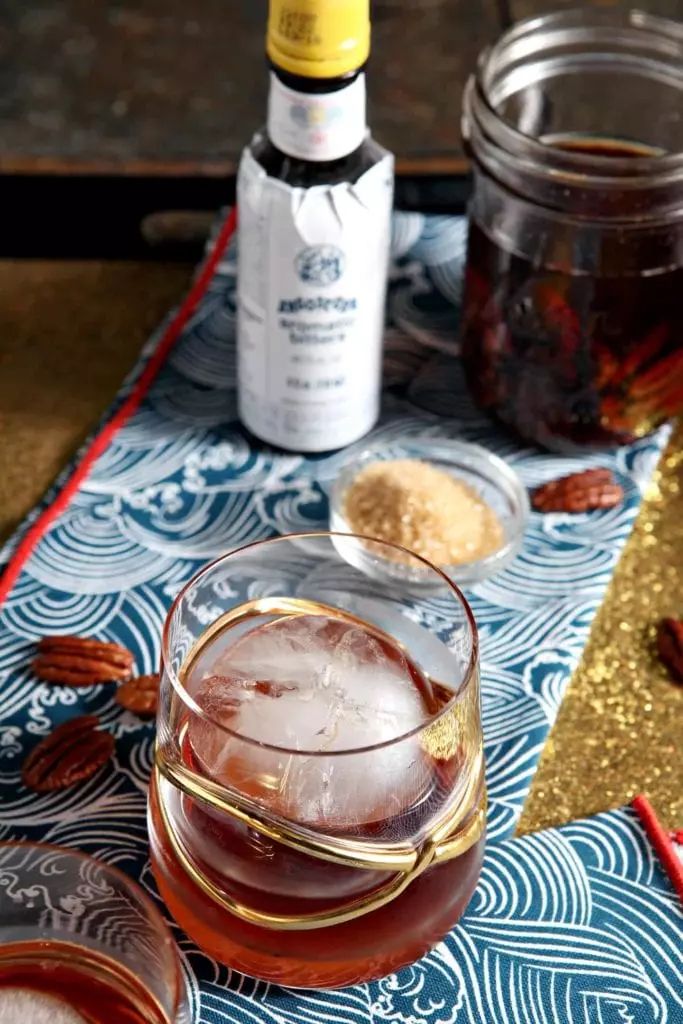 9. The Autumn Pear
Ingredients:
1.50 oz pear hard cider
1 oz clove simple syrup
.75 oz freshly squeezed lemon juice
cinnamon and sugar mixed together for rimming
2 oz bourbon
3-4 drops bitters (we used Honey Chamomile)
Directions: Combine all ingredients in a mixing glass and stir to combine. Pour over ice in cinnamon sugar rimmed glass.
via gastronomblog.com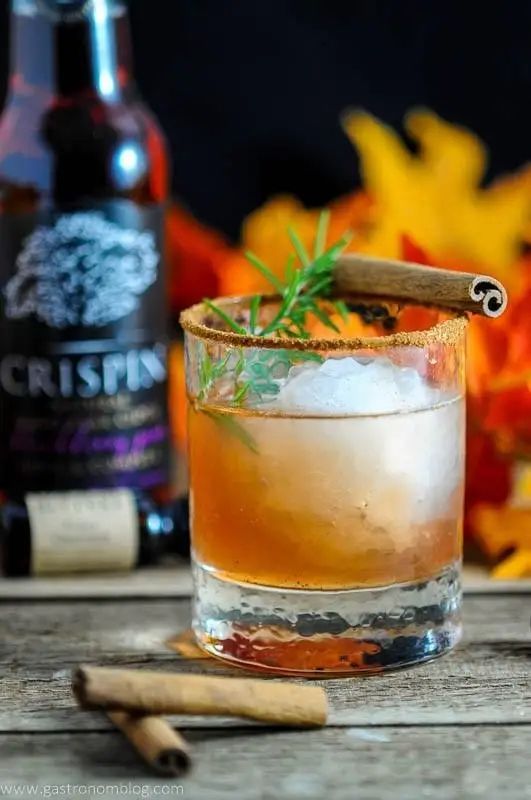 8. Raspberry Rum Mule
Ingredients:
2 ounces of rum
½, lime juiced
1 teaspoon agave nectar
5 raspberries
½ bottle of ginger beer
½ cup of ice
Directions:
Fill cocktail shaker with rum, lime juice, agave nectar, raspberries, and ice
Shake mixture until ingredients are married together
Add mixture to serving glass then top with ginger beer
Garnish with raspberries and rosemary
via vinepair.com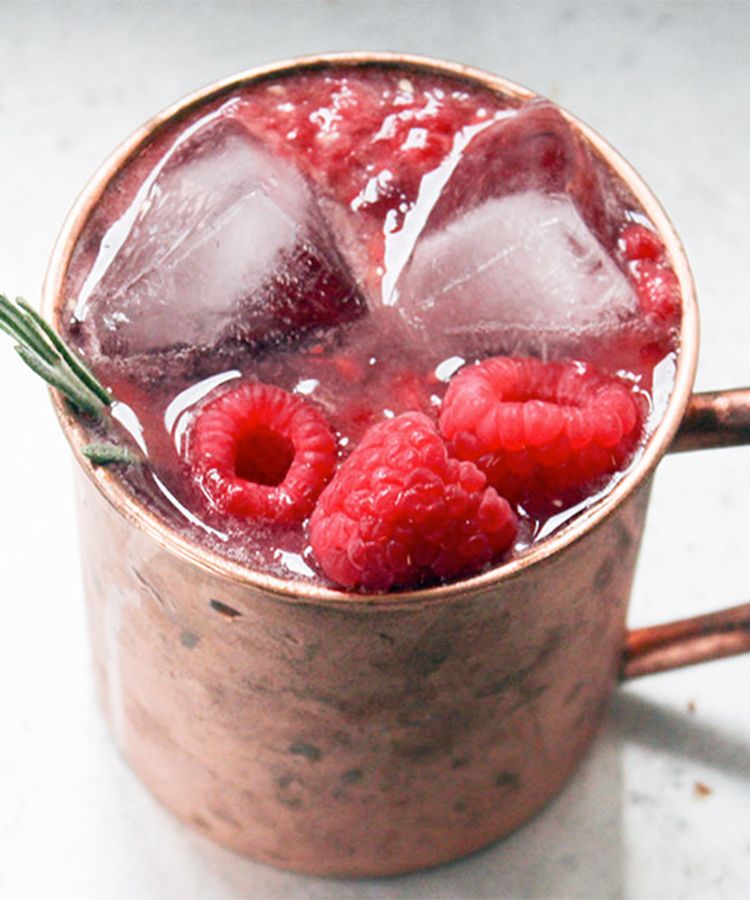 7. Pumpkin Spice Martini
Ingredients:
2 Tbsp 100% pure pumpkin puree
3/4 oz. simple syrup
2 oz. vanilla vodka
2 oz. Bailey's Irish Cream liquor
1/8 tsp. pumpkin pie spice
Directions:
Fill a cocktail shaker with ice.
Add pumpkin puree, simple syrup, vodka, Bailey's, and pumpkin pie spice; shake for about 30 seconds.
Pour shaken mixture through a strainer into a martini or cocktail glass.
Sprinkle with additional pumpkin pie spice and garnish with a cinnamon stick, if desired.
via thekitchenismyplayground.com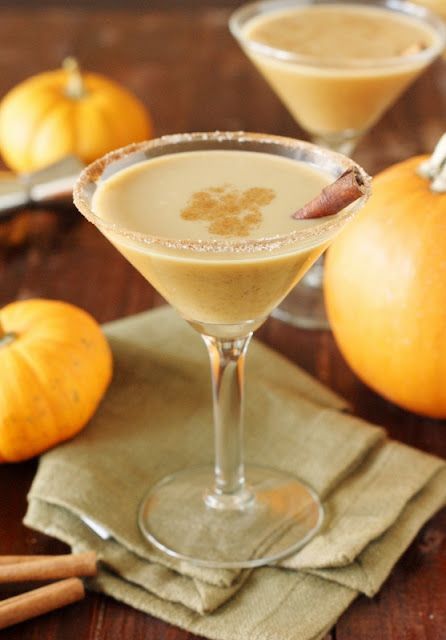 6. Apple and Pear White Sangria
Ingredients:
1 bottle Moscato wine
1/2 cup lemon liqueur (I used Caravella)
Zest of 2 lemons
1/4 cup granulated sugar
1/4 cup fresh lemon juice (from two lemons)
1 Granny Smith apple, cored, halved, and thinly sliced
1 Bartlett pear, cored, halved, and thinly sliced
1 can (12 ounces) seltzer
Directions: In a large pitcher, combine wine, lemon liqueur, lemon zest, and sugar. Stir until sugar dissolves. Add lemon juice, apple slices, and pear slices and mix well. Place pitcher in refrigerator for 4 hours to chill and allow flavors to blend. Just before serving, top sangria off with seltzer.
via lovegrowswild.com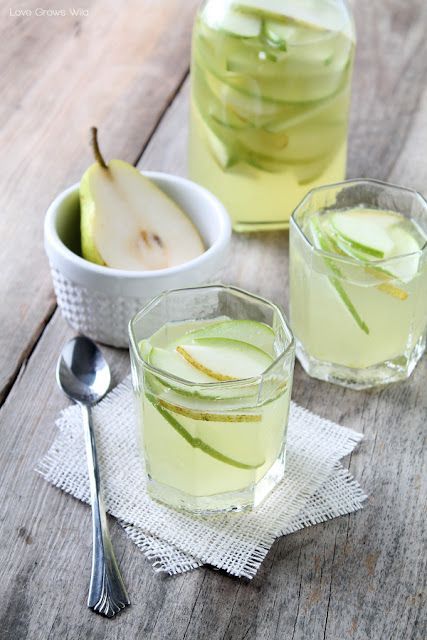 5. Apple Cider Whiskey Cocktail
Ingredients:
2 fl oz whiskey or bourbon
2 fl oz apple cider
Dash of citrus bitters
Ginger beer or ginger ale, to top
Apple slices, for garnish
Thyme, for garnish
Directions:
Add whiskey or bourbon, apple cider, and bitters to a cocktail shaker filled with ice. Pro tip: Fill the cocktail shaker halfway with ice FIRST so the shaker gets cold, then add the rest of your shots!
Shake for 10-20 seconds — don't shortchange your shake! It's important AND fun. Then strain the cocktail into a coupe or low ball glass and top with ginger beer.
Now, before you enjoy, remember to garnish your glass with an apple slice and fresh thyme!
via thecollegehousewife.com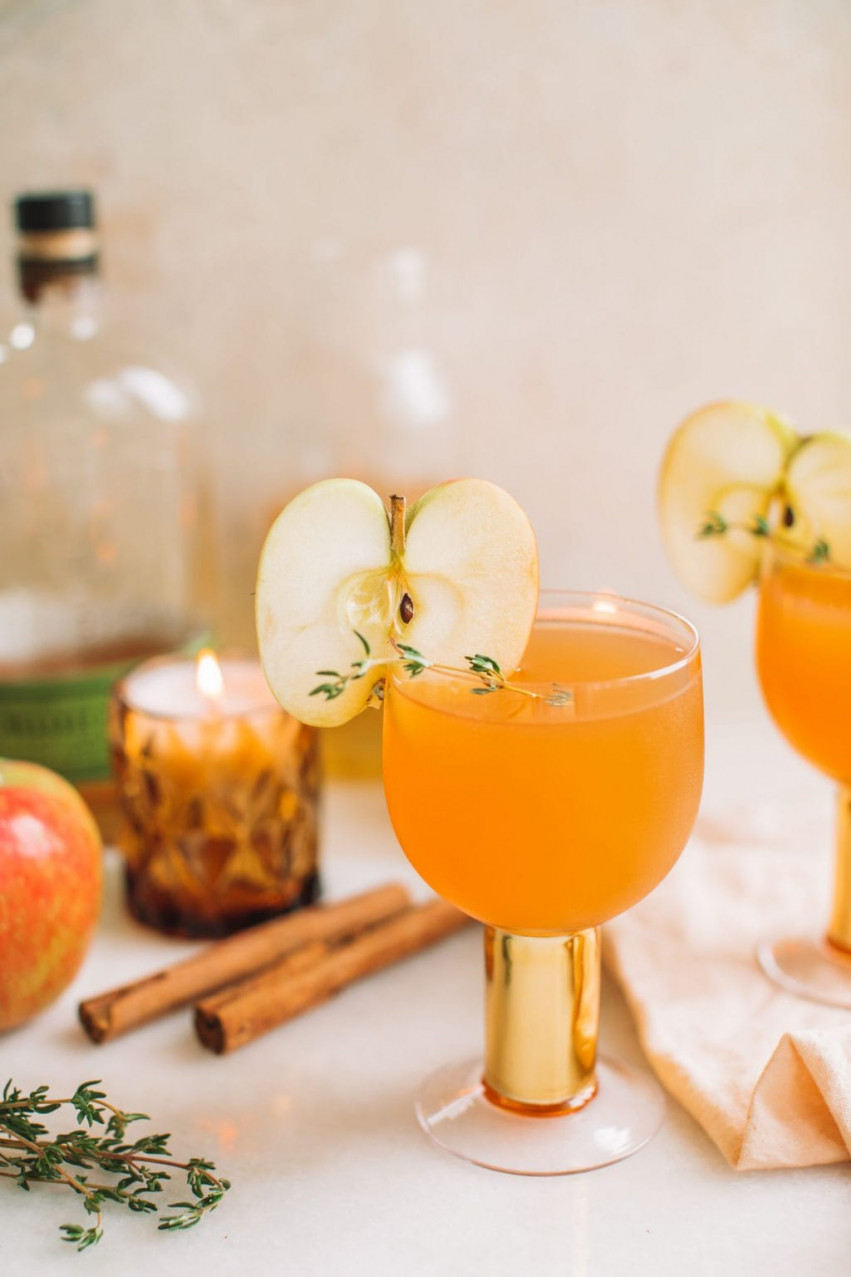 4. Fall Sangria
Ingredients:
1 apple
1 pear
1/2 orange
2 tablespoons sugar
½ teaspoon cinnamon
1 750 ml bottle dry red wine, such as Rioja
1 750 ml bottle sparkling cider or apple cider
Optional garnishes: Cinnamon stick, rosemary sprig, remaining orange slices
Directions:
Thinly slice the apple, pear, and orange. Place them into a medium bowl and stir in the sugar and cinnamon.
Transfer to a large pitcher. Allow to stand for 1 hour to allow the flavors to meld.
After 1 hour, pour in the red wine. You can use it immediately, or chill for up to 3 hours.
To serve, fill a glass with ice. Fill halfway with sparkling apple cider, then halfway with red wine mixture. Garnish with cinnamon stick, rosemary or orange slices.
via acouplecooks.com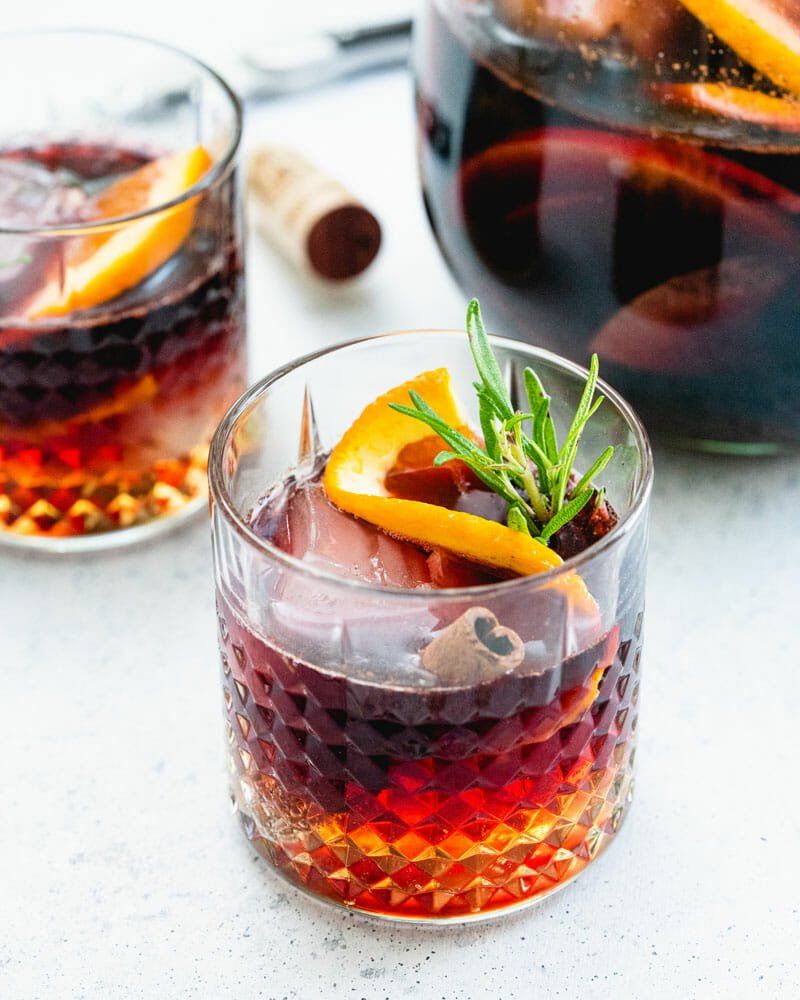 3. Fig and Vanilla Vodka Cocktail
Ingredients:
1 fig
1 smidge pure vanilla paste (I used Heilala)
Juice of 1/2 Meyer lemon
1 ½ oz PAU Maui Vodka
¼ oz honey syrup
2 dashes orange bitters (optional)
1 splash sparkling rosé
Fig and thyme sprigs for garnish
Directions: Add fig, pure vanilla paste and Meyer lemon juice to a cocktail tin and gently muddle. Add PAU Maui Vodka, honey syrup, orange bitters and ice to the cocktail tin. Shake vigorously until the outside of the tin is chilled. Strain into a glass with fresh ice. Top with a splash of sparkling rosé. Garnish with fresh fig and thyme.
via thesocialsipper.com
2. Cherry Sour Old Fashioned
Ingredients:
750 ml bourbon
30 ounces canned black cherries (2 cans), drained
2 lemon wheels
1 orange wheel
1 sugar cube
2 bourbon infused black cherries
1 1/2 ounces cherry bourbon
1/2 ounce simple syrup
1 ounce fresh lemon juice
1 ounce orange juice
2 dashes bitters
Bourbon infused cherry for garnish
Directions For Cherry-Infused Bourbon:
In an air tight jar, combine the bourbon and black cherries.
Let sit for 5-10 days.
Directions For Cherry Sour Old Fashioned:
Muddle 2 lemon wheels, 1 orange wheel, 1 sugar cube, and 2 black cherries.
Add cherry bourbon, simple syrup, lemon juice, orange juice, and bitters.
Shake and serve in a rocks glass with ice.
Garnish with a cherry.
via asideofsweet.com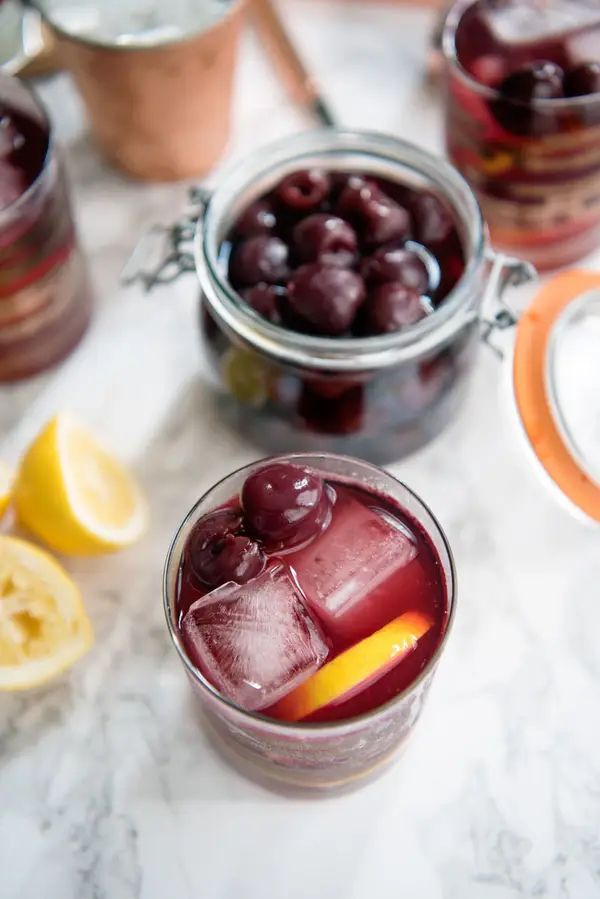 1. Apple Pie Cinnamon Cocktail
Ingredients:
Vanilla Vodka
Fireball Whiskey
Apple Cider
Sugar
Cinnamon
Honey
Apple slice for garnish
Directions: First run a bit of honey on the rim of your cocktail glass then dip into a mixture made of sugar and cinnamon. Next shake the remaining ingredients in a martini shaker and pour into a old fashioned glass with ice.
via cookingonthefrontburners.com